Russia's Patriot Boxing Team seeking big win over Indian Tigers to close Regular Season on a high note
The WSB newcomers Indian Tigers will host a double weekend of action at New Delhi's Courtyard Complex on Saturday and Sunday facing Patriot Boxing Team and China Dragons respectively and aiming to keep their Playoffs dream alive.
Saturday's action will see the Indian C2 weight categories taking on the impressive Patriot Boxing Team which, already secured their spot in between the best 8 teams of the Regular Season, even though they have 1 match left to fight. The Russians arrive in New Delhi after a dreamed regular season, counting 4 victories and only 1 defeat on their record, with the clear objective of closing the Group Stage with a victory to fill their confidence tank before the knockout rounds of Season VIII.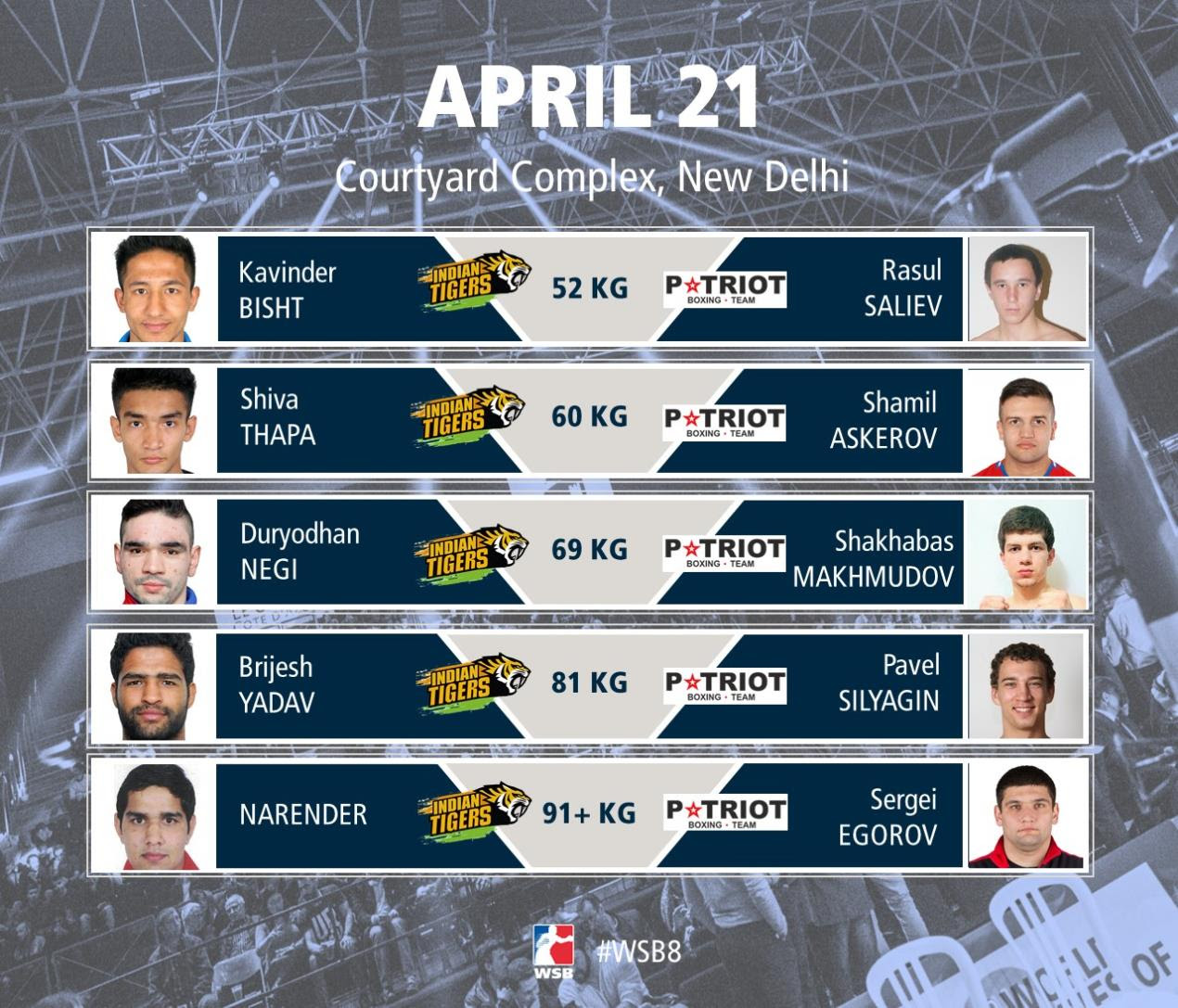 Crucial clash between Indian Tigers and China Dragons in race for the latest opportunity to reach the Playoffs
Big weekend ahead for the Indian Tigers as the WSB newcomers will host a double weekend of action in New Delhi with their latest hopes to reach the knockout stage at stake. After facing the powerful Patriot Boxing Team on Saturday, the Tigers will take on the China Dragons on Sunday with the C1 weight categories jumping in the ring.
With the Indian Tigers required to win, the magic connection between the boxers and the local crowd will play a huge role having the potential to drive the Tigers all the way to the victory and perhaps the WSB Season VIII Playoffs.
World Series of Boxing (WSB) is a unique team boxing competition and one of the most exciting sports leagues in the world. Beginning in February 2018, Season VIII sees 12 teams compete in three regional groups; America, Europe and Asia, with home and away matches, consisting of five bouts each, between the group rivals.
The top two teams from each group and the two strongest third-placed teams will qualify for the play-offs, which assume the format of four Quarter-Finals, two Semi-Finals and the grand Final.
The world's premier boxing series is a hard-fought competition of unparalleled intensity, speed and power, where boxers compete across five rounds, scored using the 10 Points Must system.
Season VIII is set to build on the enormous success of Season VII, and features the stars of the 2017 AIBA World Championships and Rio 2016 Olympic Games. WSB boxers accounted for 23 Olympic medals at the Games, including 6 golds, adding an extra dimension of excitement and competition for both the fans and the boxers.