France Fighting Roosters to keep their first place in Regular Season with win over Italia Thunder on Friday night
Currently standing first in Group Europe and with only two matches left in the regular season, the Roosters take on Italian rivals in historic Salle Wagram on Friday night. The French team is already guaranteed a place in the play-offs but a win against Italia Thunder could help them keep on the top of the overall ranking of the group stage.
Croatian Knights to keep play-off hopes alive against British Lionhearts in Zagreb
Newcomers Croatian Knights to meet Season VI finalists British Lionhearts in the city of Zagreb on Friday night, knowing that only a win will do in pursuit of a shot at the play-offs. The Knights were dramatically beaten 5-0 in Week 3's away fixture in Gateshead and will field a determined line-up in their bid to keep in check with their opponents with what would be their first win of the season.
China Dragons seeking for their first win of Season VIII against 3-time WSB champions Astana Arlans Kazakhstan
On Friday night, China Dragons will welcome 3-times WSB champions in Guizhou for their third match of the season. The Dragons were beaten by Russia Patriot Boxing team on week 8 and 9 and are looking for their first win in this season, but the Arlans will come fully confident after their victory in away fixture in India on Week 8.
Uzbek Tigers to welcome Caciques de Venezuela for an animated battle in their last matches of Season VIII Regular Season
Uzbek Tigers will have their last match of the regular season in city of Termez against Caciques de Venezuela, both team are seeking for the last points they can get to reach the play-offs. The fans will witness great boxing action, as the two teams will meet during two matches within one evening in front of cheering crowd. Both matches will feature great boxers including Olympic medalists, but the most awaited bout will be between Olympic gold medalist Shakhobidin Zoirov and Olympic bronze medalist Yoel Finol.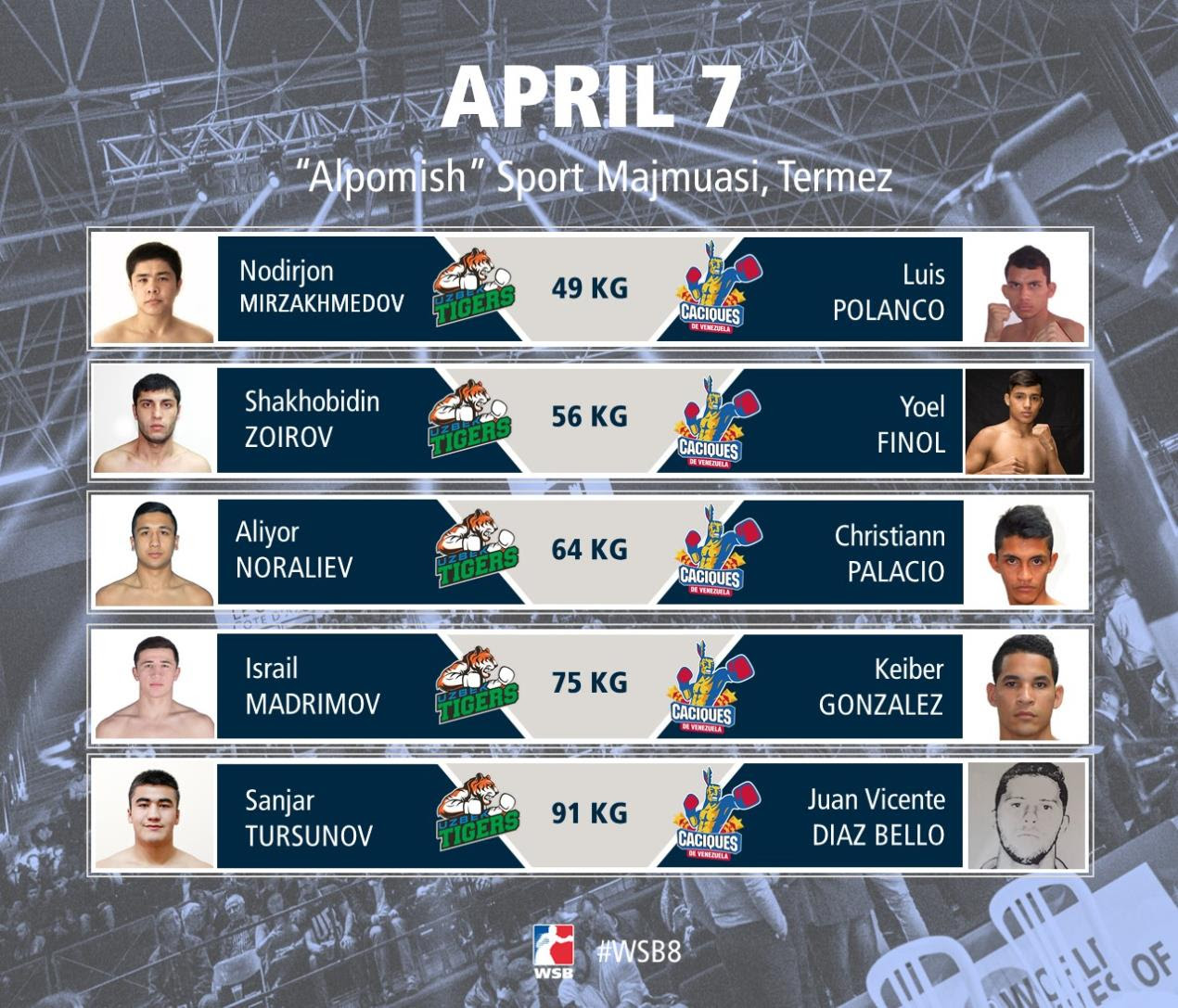 World Series of Boxing (WSB) is a unique team boxing competition and one of the most exciting sports leagues in the world. Beginning in February 2018, Season VIII sees 12 teams compete in three regional groups; America, Europe and Asia, with home and away matches, consisting of five bouts each, between the group rivals.
The top two teams from each group and the two strongest third-placed teams will qualify for the play-offs, which assume the format of four Quarter-Finals, two Semi-Finals and the grand Final.
The world's premier boxing series is a hard-fought competition of unparalleled intensity, speed and power, where boxers compete across five rounds, scored using the 10 Points Must system.
Season VIII is set to build on the enormous success of Season VII, and features the stars of the 2017 AIBA World Championships and Rio 2016 Olympic Games. WSB boxers accounted for 23 Olympic medals at the Games, including 6 golds, adding an extra dimension of excitement and competition for both the fans and the boxers.